"After carefully reviewing different systems, we found the perfect partner in Move4U. Decisive factors being the integration possibilities, the accessible and flexible service and the fact all applications work together seamlessly."
Al - Managing Director at Bishop's Move
How Does LeadForm Work?
Gather all the basic information you need to start the moving process for your prospective customers. Simply embed our LeadForm into your website and collect moving requests into the MoveDashboard and your mailbox. You'll have everything you need in order to start a move, collecting the necessary information to provide a detailed and professional moving quote!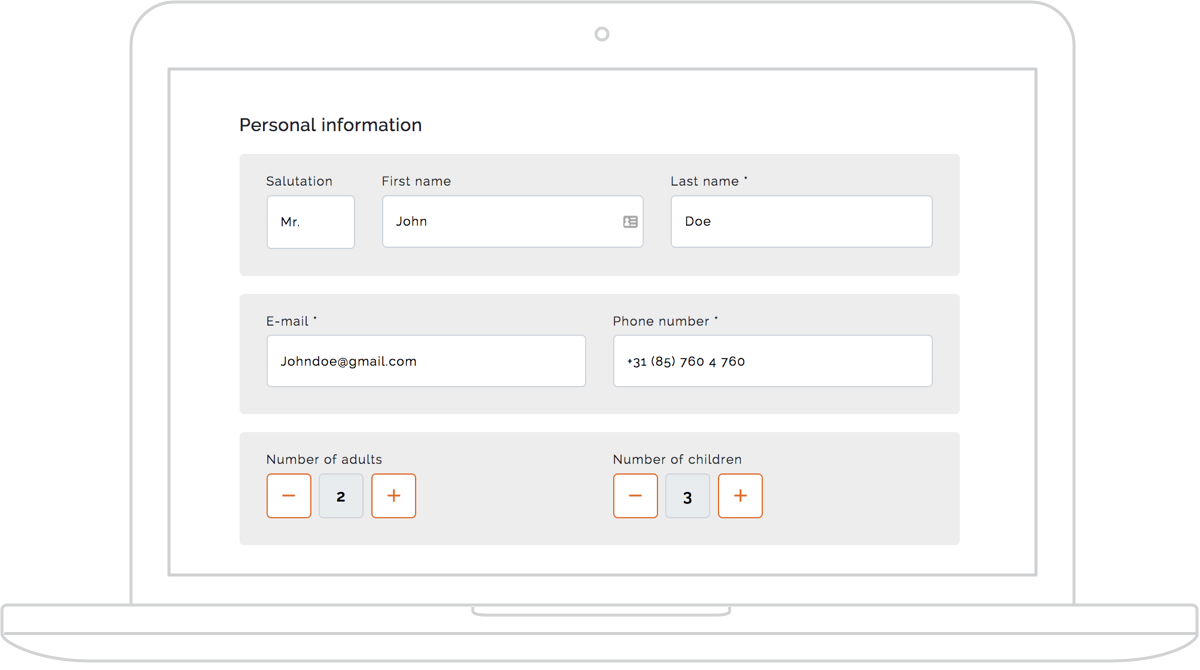 1. Quickly Capture Customer Contact Details
You'll get detailed contact information quickly through efficient fields.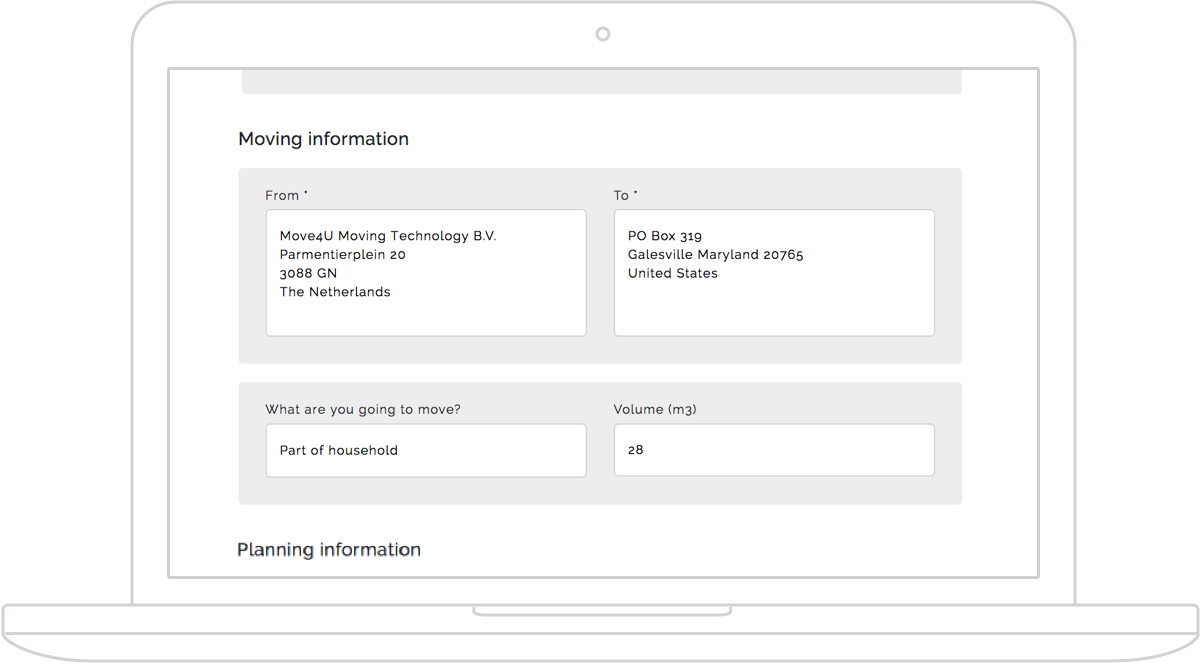 2. Collect Basic Moving Information
Get the basic moving information with Origin and Destination, by only filling in a city or the complete address, with an extra option to fill in the volume if already known.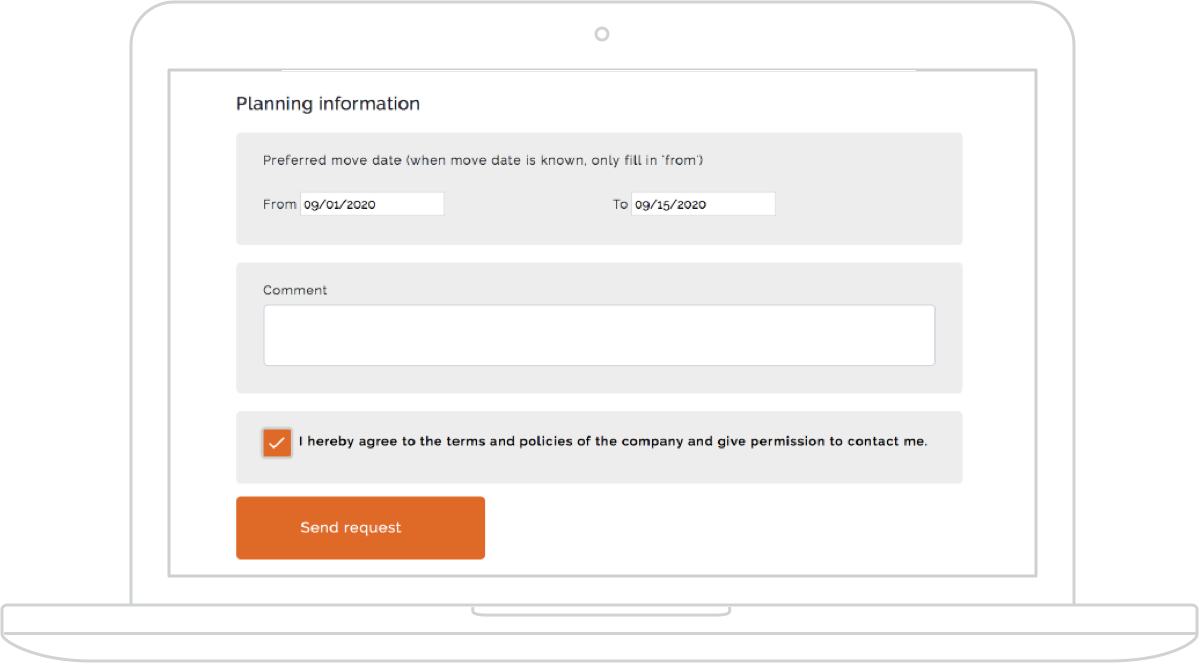 3. Get Insight Into The Preferred Moving Date
Allow potential customers to submit their preferred moving date and comment on the request. To start the moving process, users only have to accept your terms and click on "Send Request".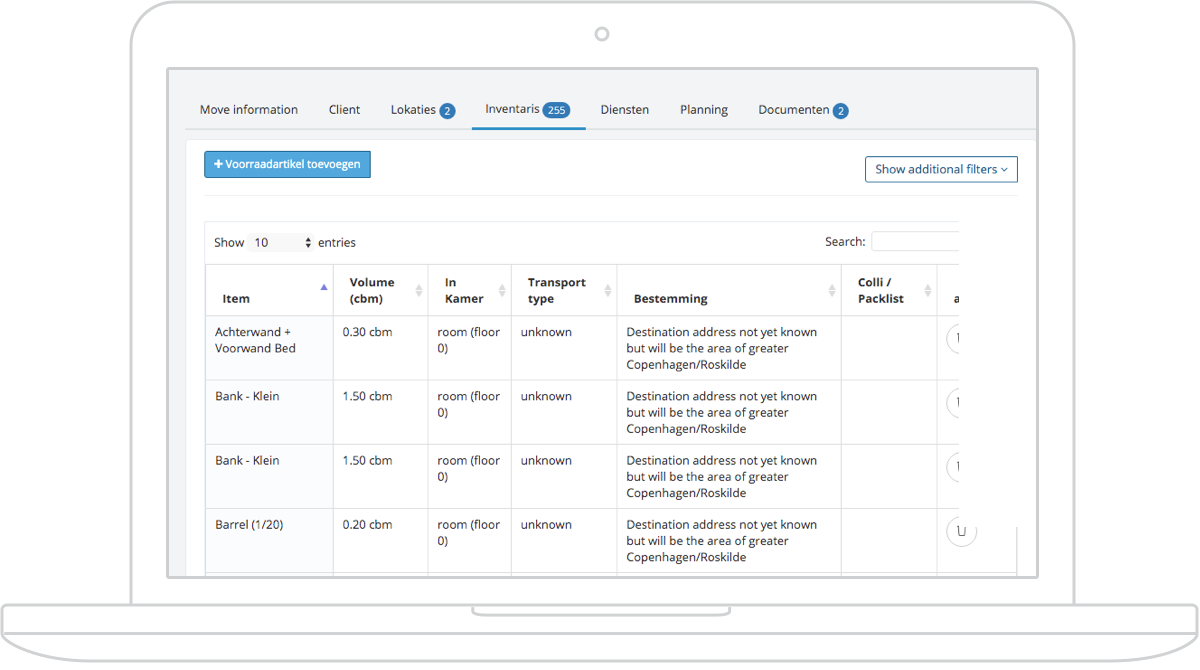 4. Reach Out To Potential Leads
When submitted, the follow-up action is determined after which the relocation process is initiated. The process is created in the MoveDashboard after which you will receive an email notification. You are now able to start monitoring the progress of the potential client that ultimately will lead to a quote and a booking of the job 24/7.
Powerful Features For More Moving Quotes
Our goal is to help you get more moving quotes online for your company. Explore some of LeadForm's coolest features below.
Initiate The Process
Get basic moving information in order to determine whether follow-ups are appropriate.
Custom-designed For Your Brand
The LeadForm can be customized to match your company's identity – the layout, colors and logo can all be incorporated, even your verification emails to customers.
Embedded Into Your Website
The LeadForm can be perfectly integrated into your website, available 24/7 to all of your leads.
Responsive Design
LeadForm is designed to provide the best viewing experience across all devices, including desktops, tablets and mobile.
Gather New Leads Fast
Gather personal details quickly through compact fields.
Cloud based With MoveDashboard
The LeadForm information requests are updated directly into MoveDashboard and receive necessary notifications.
Get moving quotes directly from your website with
LeadForm
View the live demo now!
Seamlessly Integrates With Your Free MoveDashboard
The MoveDashboard is your complete view of how your business is doing and comes completely free of charge. From closing ratio to revenue, the MoveDashboard lets you keep "your finger on the pulse" of your business. Create reports at the touch of a button and assign new tasks to your sales representatives and packing crews straight from a single system.
Get Your 14-Day Free Trial Now!
Want to know how our products can increase your moving business? Try the product 14 days for free! No credit card needed!
Visit, call or e-mail us
---
MOVE4U Web Applications B.V. - Netherlands
Parmentierplein 20
3088 GN Rotterdam
MOVE4U Web Applications LLC - USA
4130 Salisbury Road, Suite 1240
Jacksonville, FL 32216
Already Using The LeadForm