Yembo.ai and Move4U, two leading technology companies specializing in solutions for the moving industry, have announced a landmark integration to offer seamless data transfer capabilities for moving companies using Yembo's pre-move survey technology and Move4U's CrewPro digital inventory platform.

Read morechevron_right
According to IBISWorld, the global moving industry is expected to grow by 5.4% in 2021 as the world emerges from the coronavirus pandemic. During the crisis, a lot of movers already changed the way they work, welcoming moving technology and optimizing their moving processes.
While we welcome the growth in new business, calculations show that an average UK home move emits 16.8kg of CO2 emissions – that's equivalent to keeping a light bulb on continuously for 53.85 days. Multiply that by the hundreds of thousands of moves worldwide and you can only imagine the amount of CO2 that is emitted every year by the moving industry. Besides the moral responsibility that we have to reduce our carbon footprint, according to research, 84% of the consumers are also far more likely to purchase from a business that adopts eco-friendly practices. More than enough reasons enough to become an eco-friendly mover.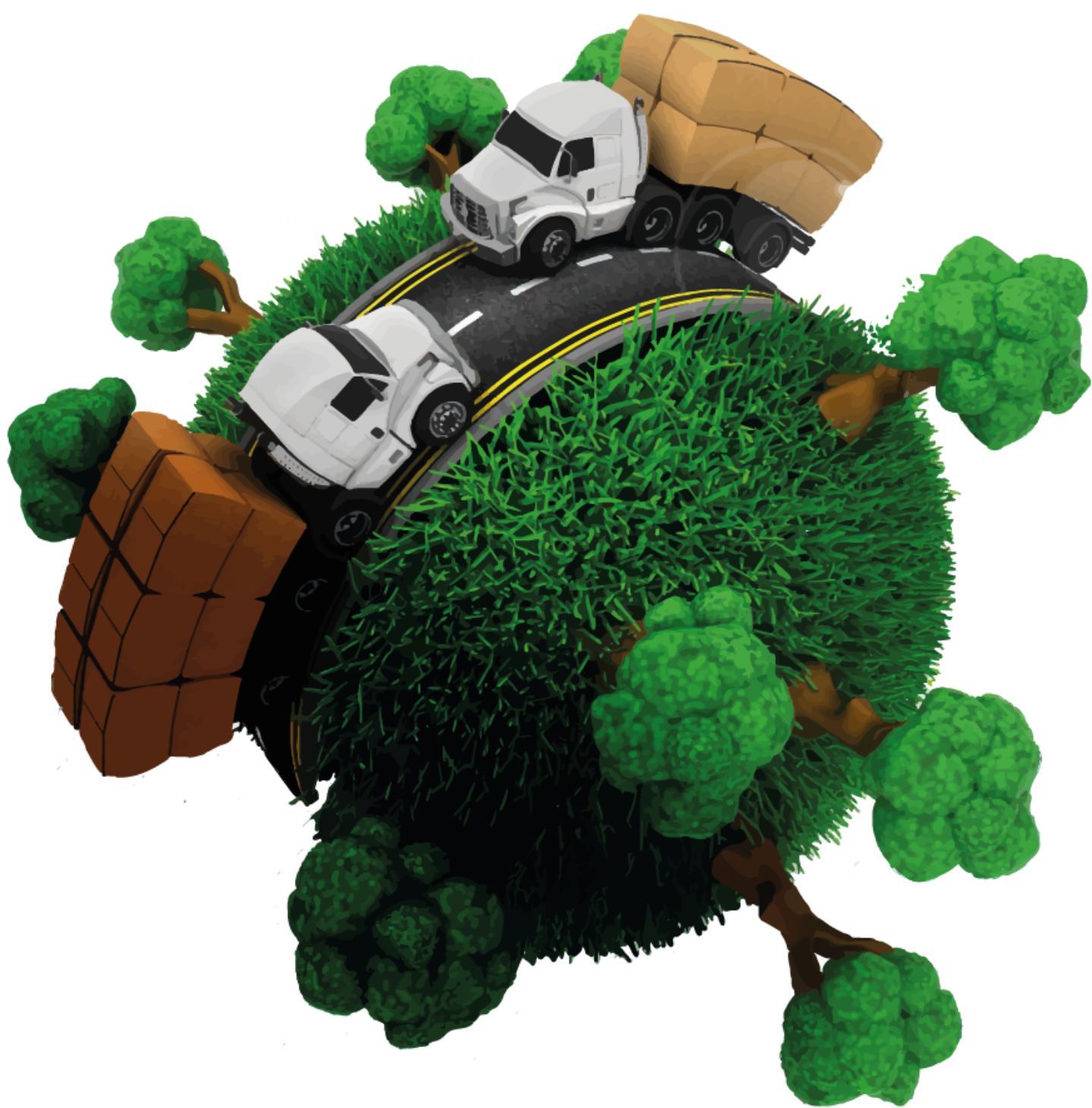 What is an Eco-Friendly Mover?
First things first, what is exactly an eco-friendly mover? Eco-friendly movers are moving companies that make a conscious decision to reduce the environmental impact of the services that we provide. An example of a "green" moving company is Gentle Giant, who have adopted a range of environmental initiatives to make their moving process as eco-friendly as possible.
There are multiple ways to reduce the carbon footprint and lower the environmental impact of the moving industry and here are 5 tips to help you on your way!

1. Eco-Friendly Moving Vehicles
Everyday thousands of moving trucks are on the road collecting and delivering customers goods to their new home. How can you help reduce these harmful emissions? Take De Haan Relocation, for example, which has 3 of their 11 trucks running entirely on Hydrotreated Vegetable Oil, which is sustainable and fossil-free fuel. Using biodiesel as a vehicle fuel increases energy security, improves air quality and the environment, and provides safety benefits.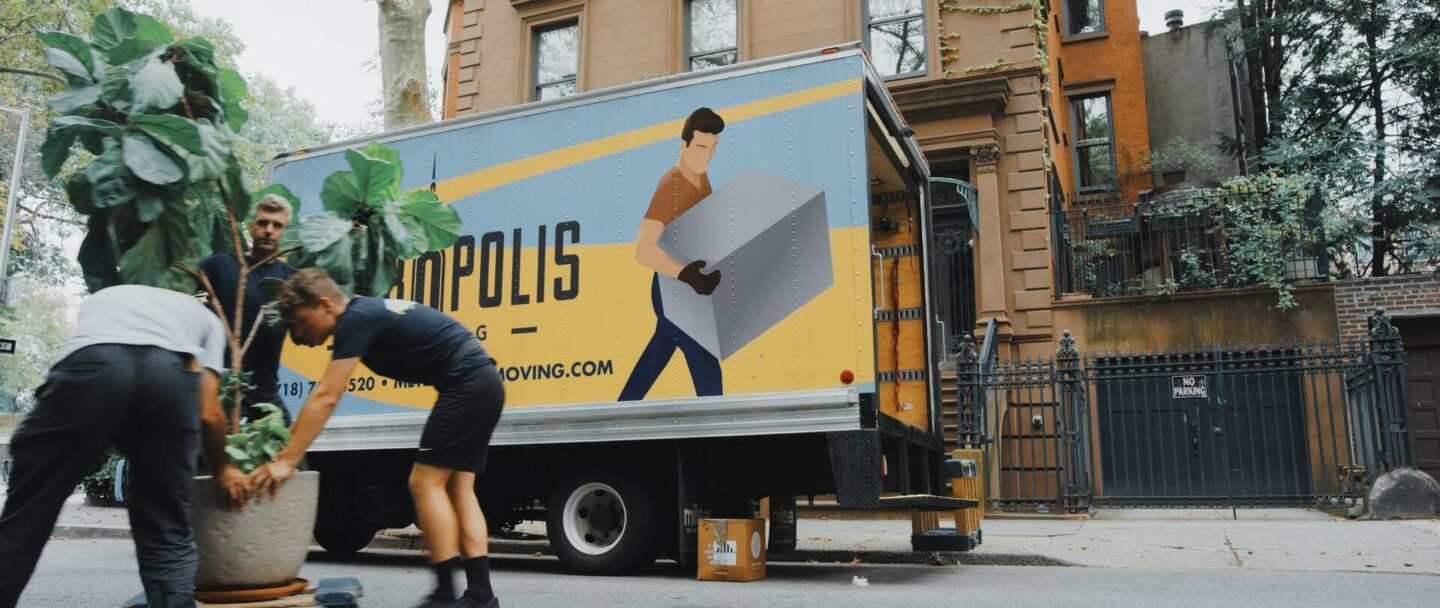 2. Compensating CO2 Emission
A new, modern way to do your part in reducing your carbon footprint is by using a CO2 emission compensation service such as ecolegIT. EcolegIT is an all-new sustainability program for the moving and global mobility industry that achieves full compensation of CO2 emissions for individual moves through responsible forestry projects.
EcolegIT partners with TreesForAll to plant new trees in developing countries. By building these projects in developing countries they can contribute to better living conditions for the local population and then measure the social, economic, and ecological impact providing the moving company with a certificate to verify their contribution.
3. Eco-Friendly Moving Materials
Packing materials are a huge part of the moving industry, but also another source of environmental damage. To help reduce the environmental impact of moving you can reduce, recycle and reuse moving boxes and packaging.
100% recycled moving boxes
By switching to moving cartons that are manufactured from 100% recycled cardboard, you can help make your moving company a little bit more eco-friendly. After the move any non-reusable moving boxes can be compacted and sent to a recycling center. Some moving companies are also asking money for the retrieval of used moving boxes and packing supplies, smart right?
Biodegradable packaging
Reduce your company's carbon footprint and switch to biodegradable packaging supplies. By choosing biodegradable packaging such as, loose fill, tissue paper, paper rolls, corrugated bubble wrap and foam peanuts you could be helping to save our environment. There are more alternative green packing materials your company can use, such as newspapers, blankets, and recycled paper tape.
FSC certified marketing materials
Another tip is to make sure that your flyers or other marketing materials for your moving company are FSC certified products. FSC is a non-profit organization that makes sure that forestry is practiced in an environmentally responsible and socially beneficial manner.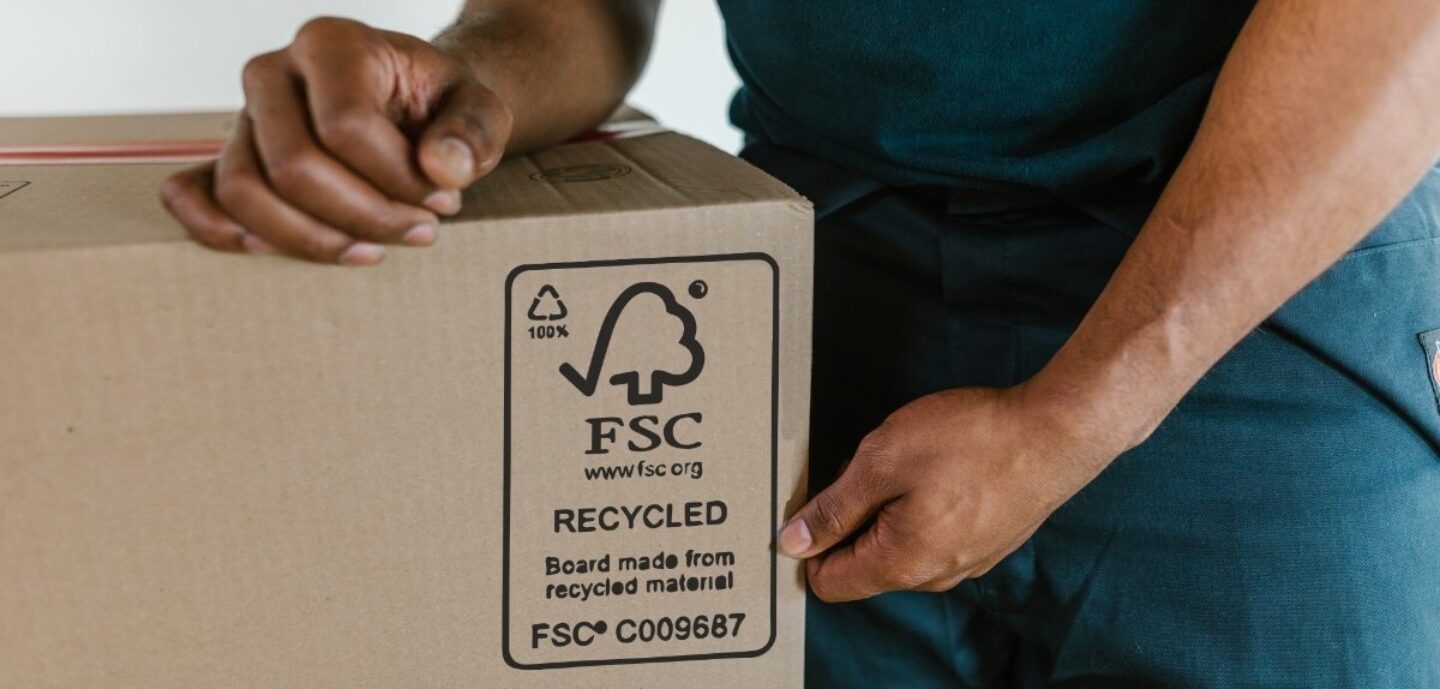 4. Invest in Solar Panels
It's not just transport and materials that have a negative impact on the environment. Consider making your office eco-friendly and reduce your bills by running the office or workshop on solar energy or green electricity.
The most commonly known fact about solar energy is that it represents a clean, green source of energy and except for needing a source of clean water to function, it uses absolutely no other resources.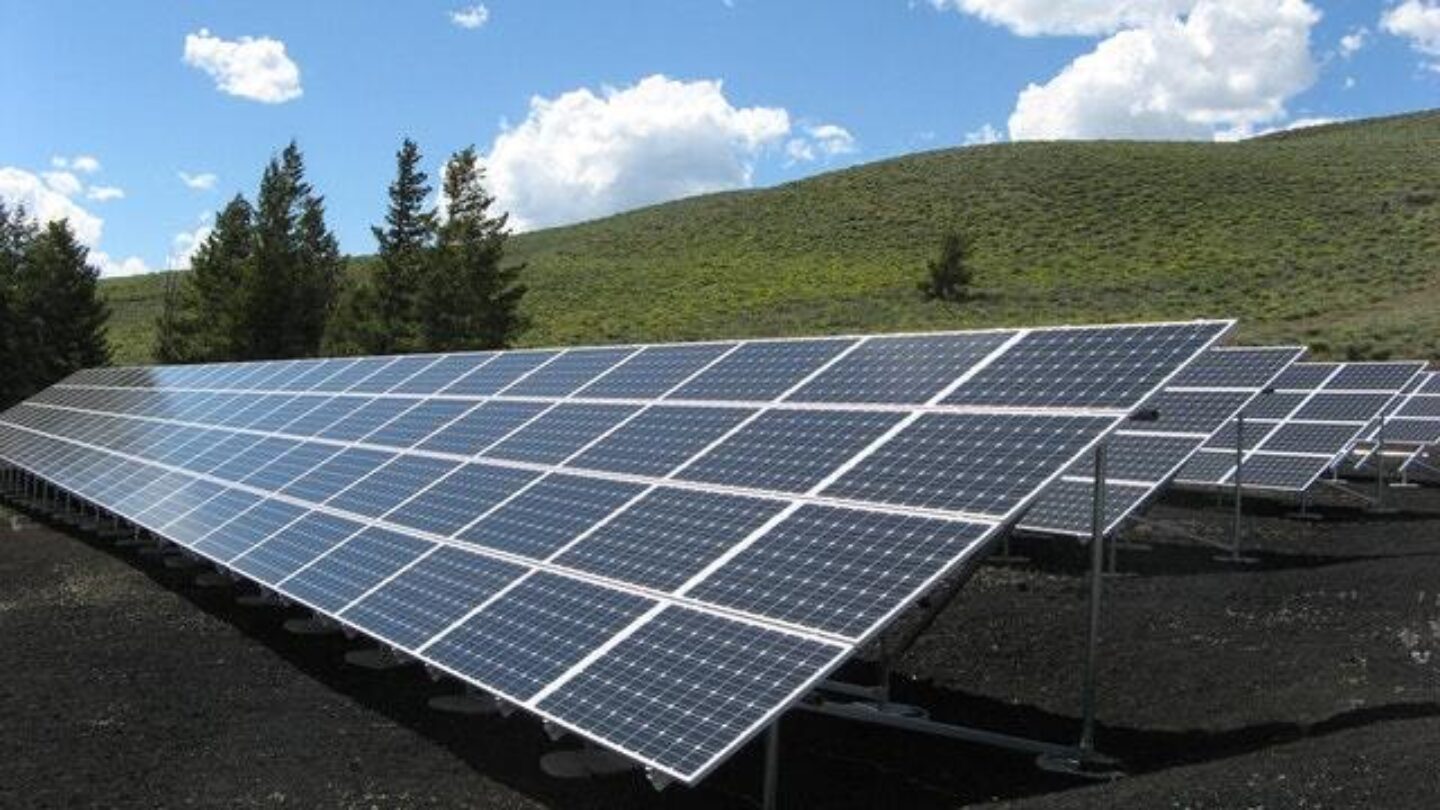 5. Video Moving Estimates
A lot of CO2 emissions are caused by traditional ways of working by our moving industry, such as physical pre-move surveys and pen and paper inventories. Sales representatives often travel up to 30 miles in urban areas to perform an in-home survey. By using video survey software, you not only reduce the emissions of traveling to the home but save a lot of time and money. The use of video survey software contributes to a better climate and fits perfectly into the sustainability strategy of your organization. Read more about our SurveyVideo.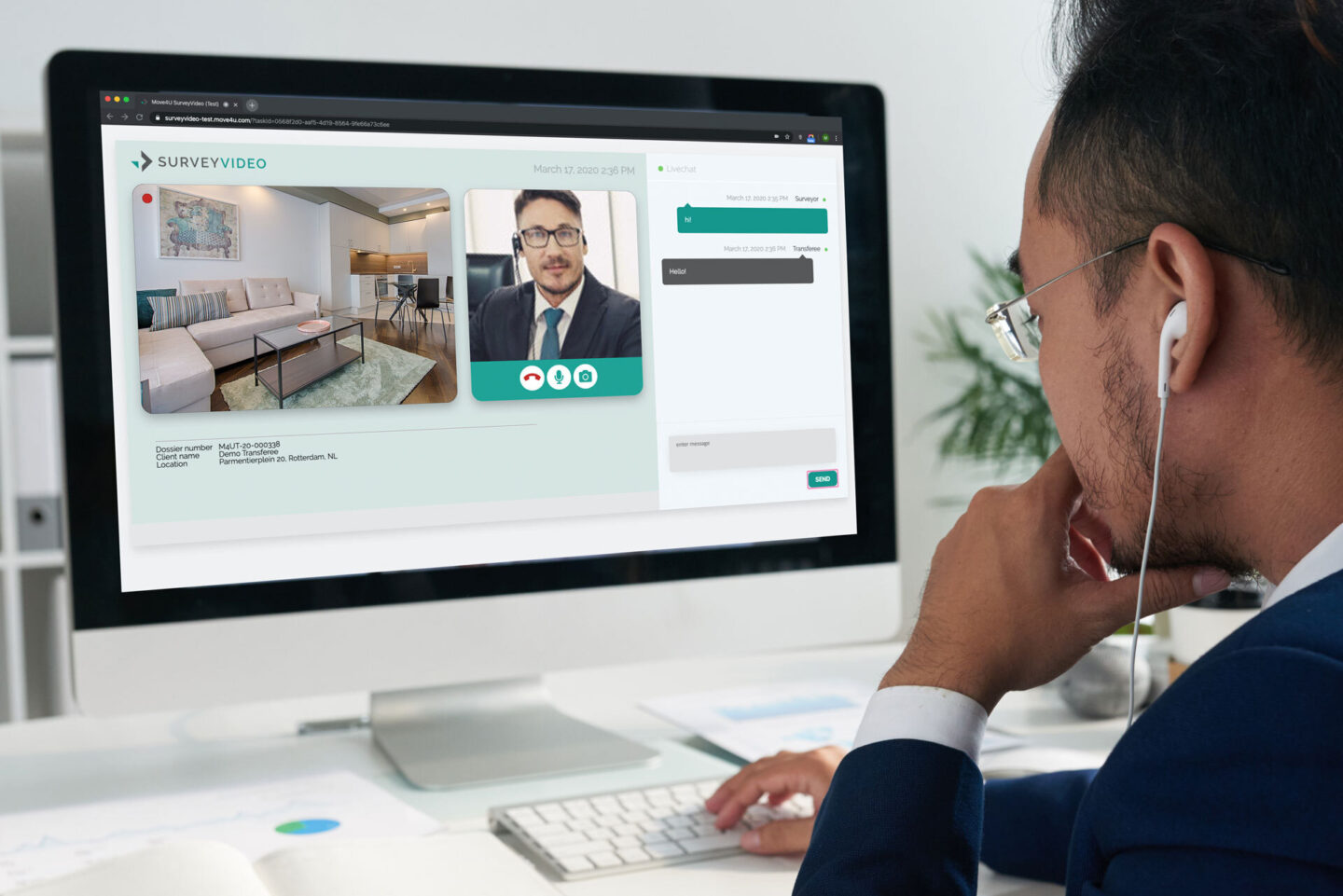 Promoting Your Green Credentials
When you make the choice to operate in an environmentally friendly way, don't forget to promote it on your website and in your marketing. Potential customers then immediately know what you are doing as a moving company. Let's see some examples of moving companies that move in an ecologically responsible manner: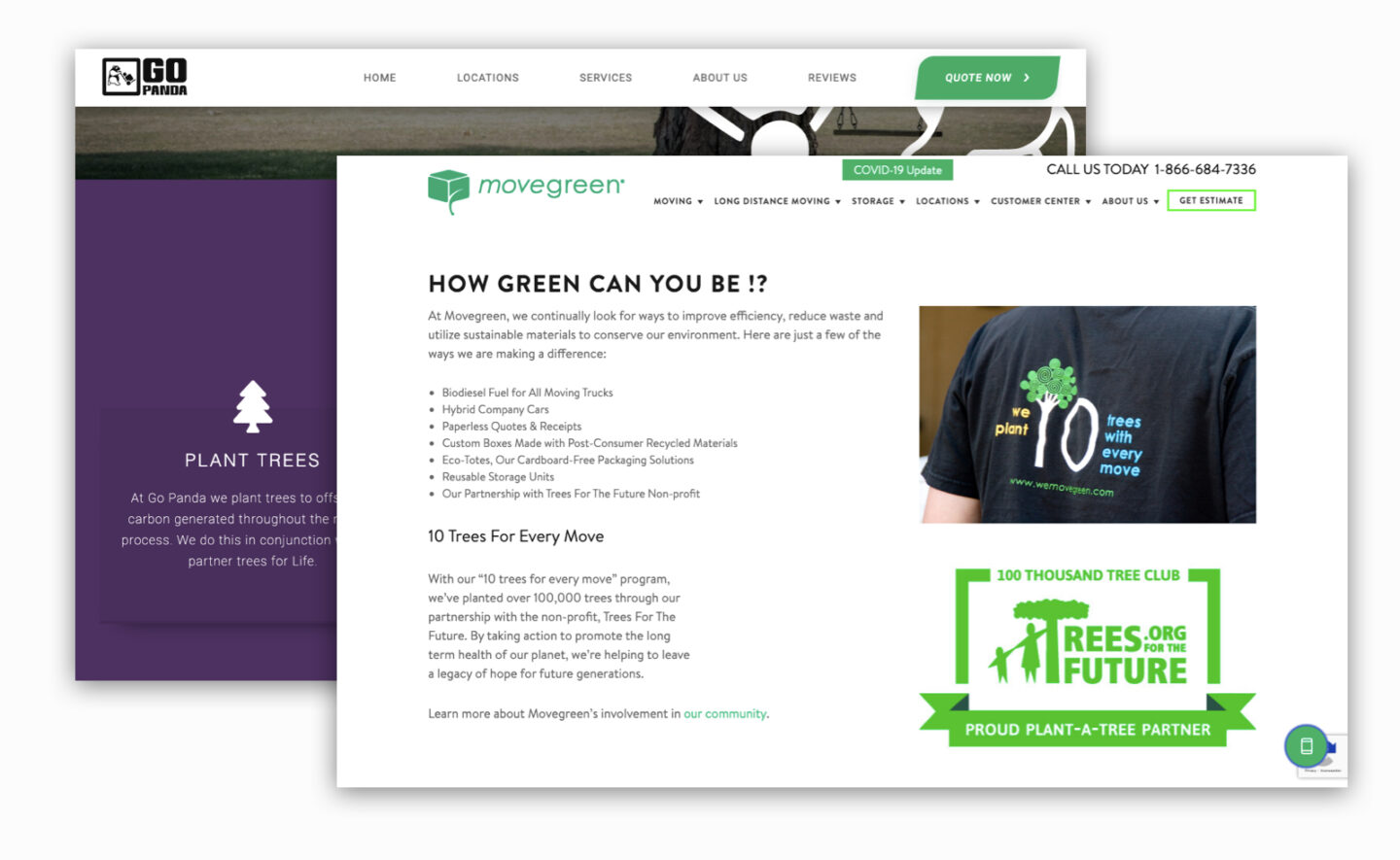 Examples of a green moving company webpages from movegreen.com and gopanda.co
The moving company GreenMove made a brand promise video about their green way of working.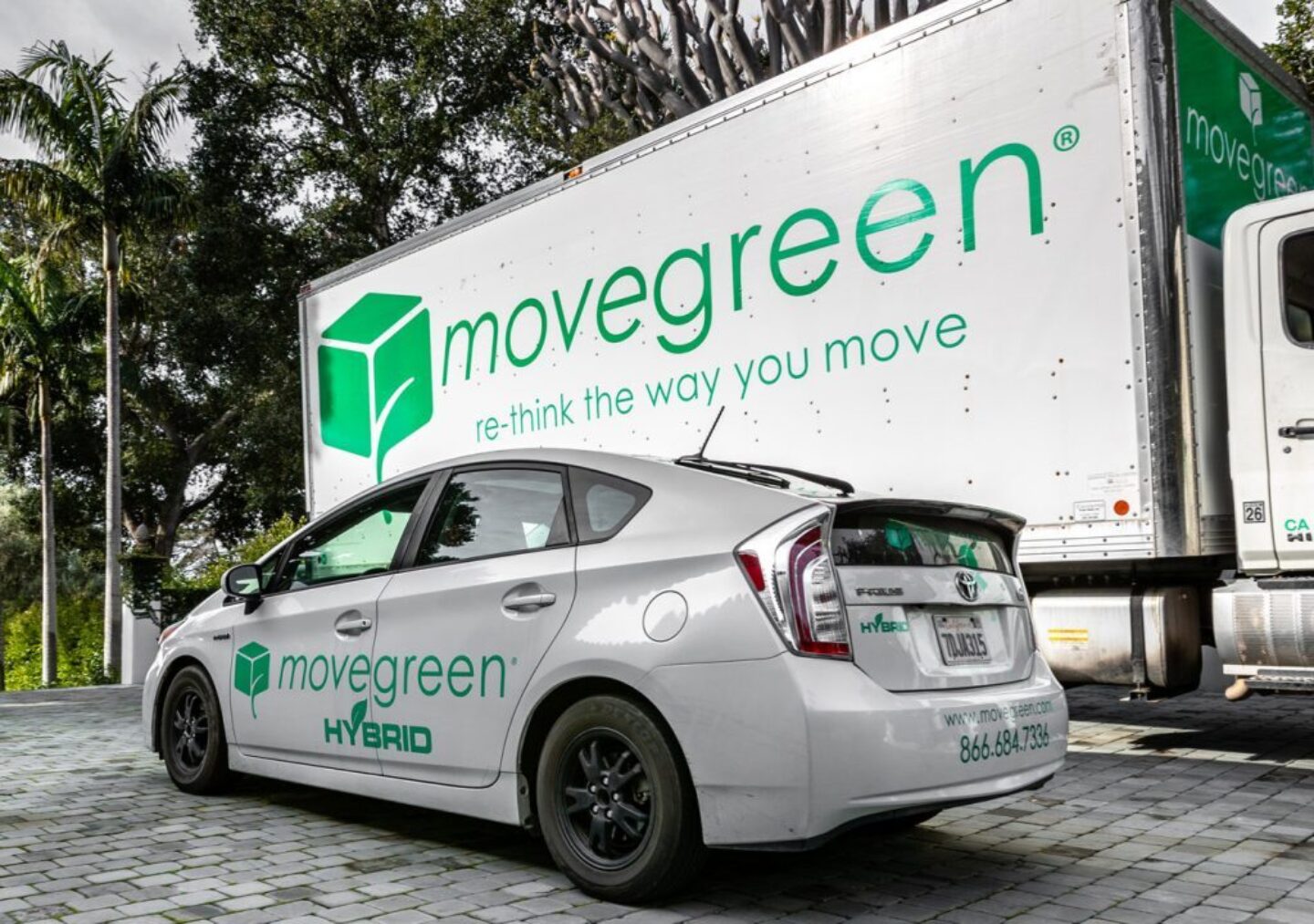 MoveGreen vehicles are all eco-friendly branded.