"At Icon Relocation, SurveyVideo helps us maintain the valued personal approach of our surveyors, while saving the time and costs of physically visiting our customers for a moving estimate."
- Ben Carter, CEO at Icon Relocation
How Does The SurveyVideo Software Work?
It has never been more critical to build your service around the changing needs of your customers. While some customers still prefer an in-home visit, an increasing number of customers welcome the flexibility of a virtual video survey. Our SurveyVideo software is a streaming video call that is recorded. This allows your moving company to offer the option of a video survey and for your representative to accurately estimate the customers' household goods and personal effects.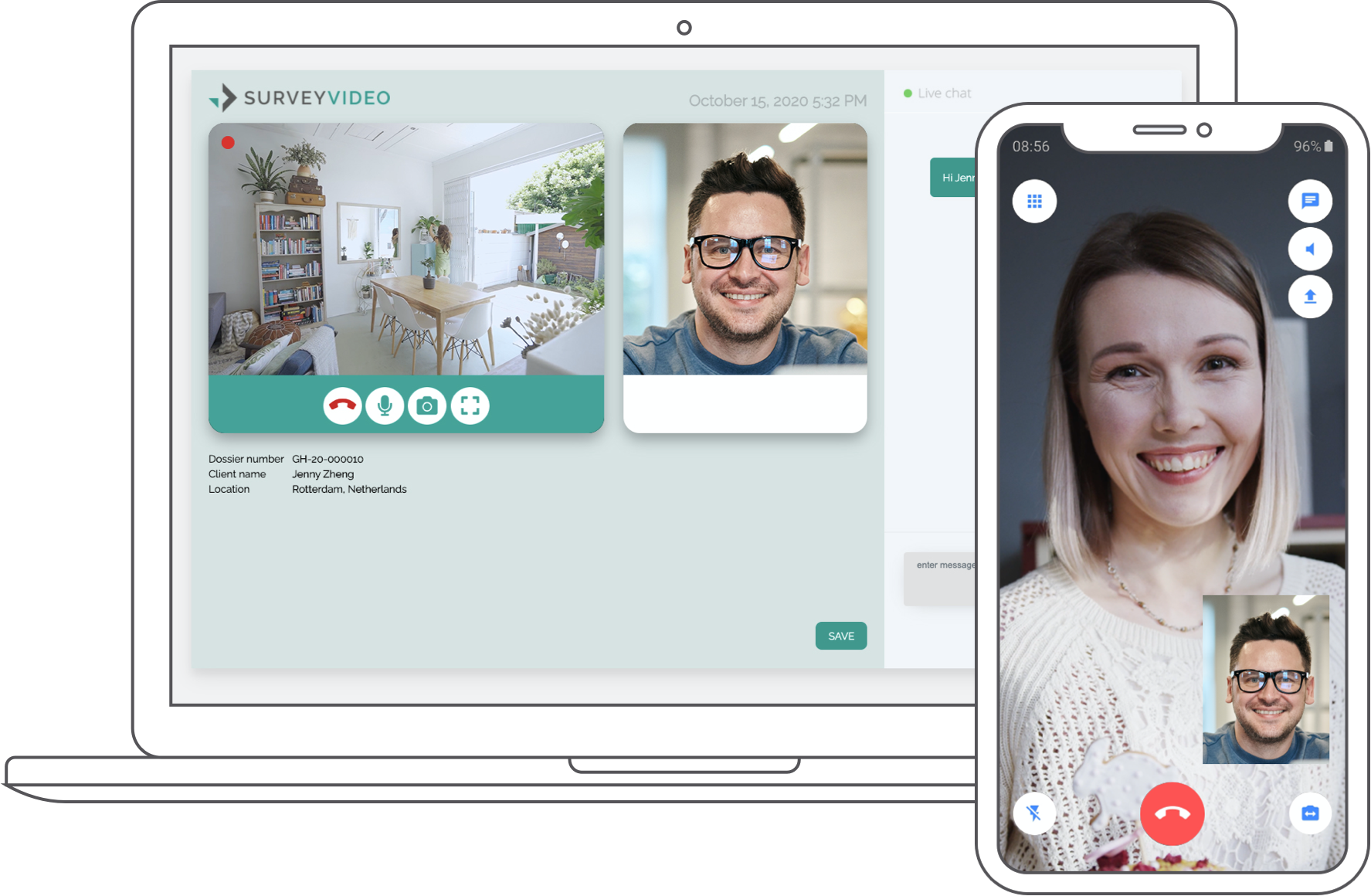 1. Limited Software Training Needed
We believe that no-one can sell your companies services and estimate the contents of a home better than you can. For that reason, SurveyVideo is a user-friendly tool that can be used confidently by your sales representative with limited training and without the need to outsource to an expensive third-party company.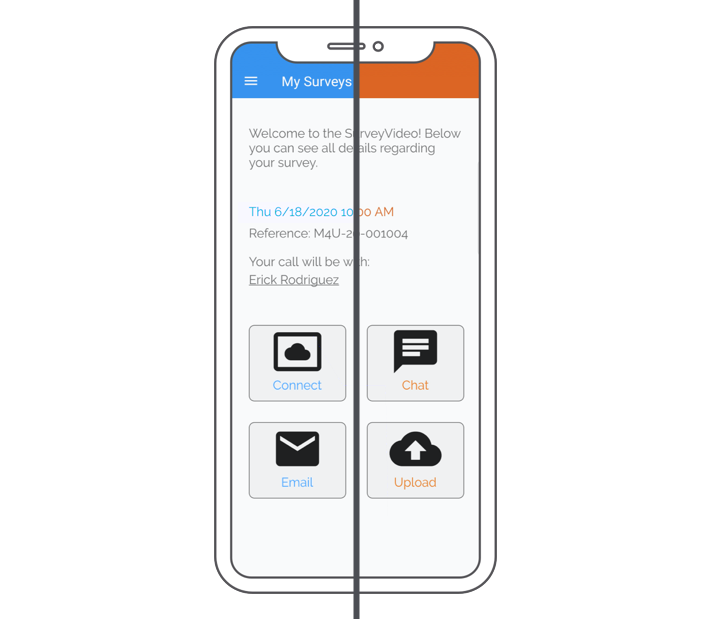 2. Your App, for Your Customers, Customized to Your Brand
The SurveyVideo app can be easily branded to match your company's identity – the layout, colors, and logo can all be incorporated, even your confirmation emails to customers.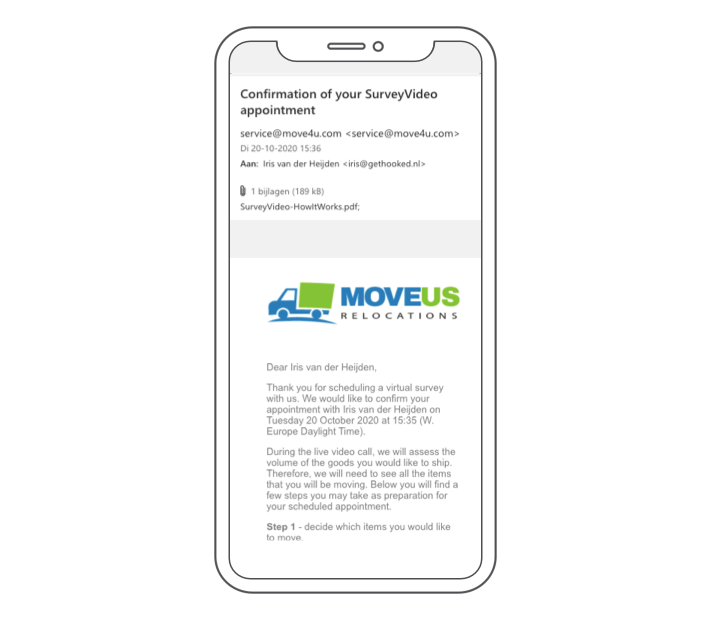 3. Schedule Your Virtual Video Survey
After the appointment is scheduled in the MoveDashboard customers get a confirmation email with instructions for the virtual survey. They simply download the SurveyVideo app on the Google Play or App Store and log in using their email address.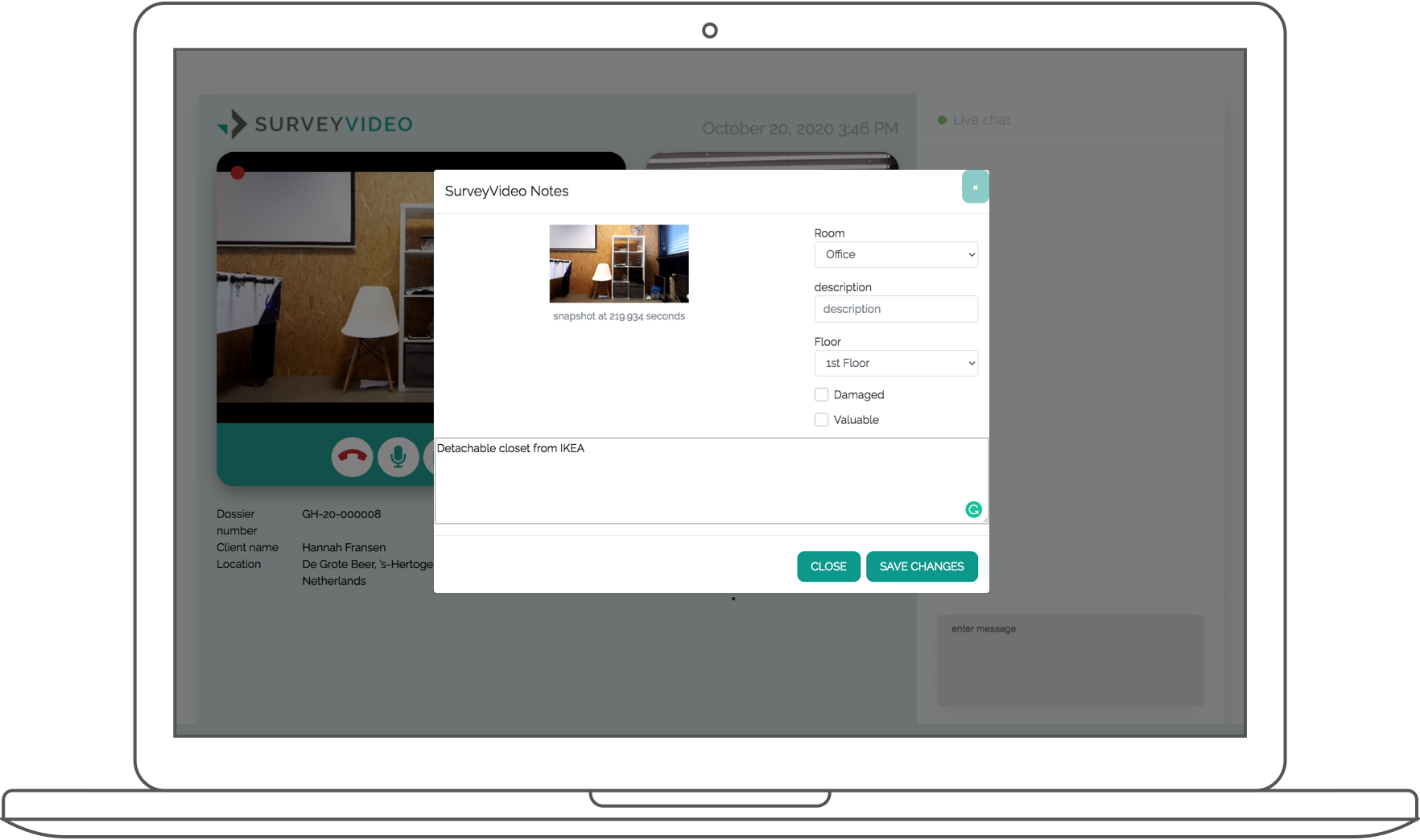 4. Take Smart Snapshots During The Call
Surveyors can quickly and easily take snapshots during the video survey. They can then specify the room and floor in which this snapshot was taken, this will create the room and floor in the Itemizer inventory.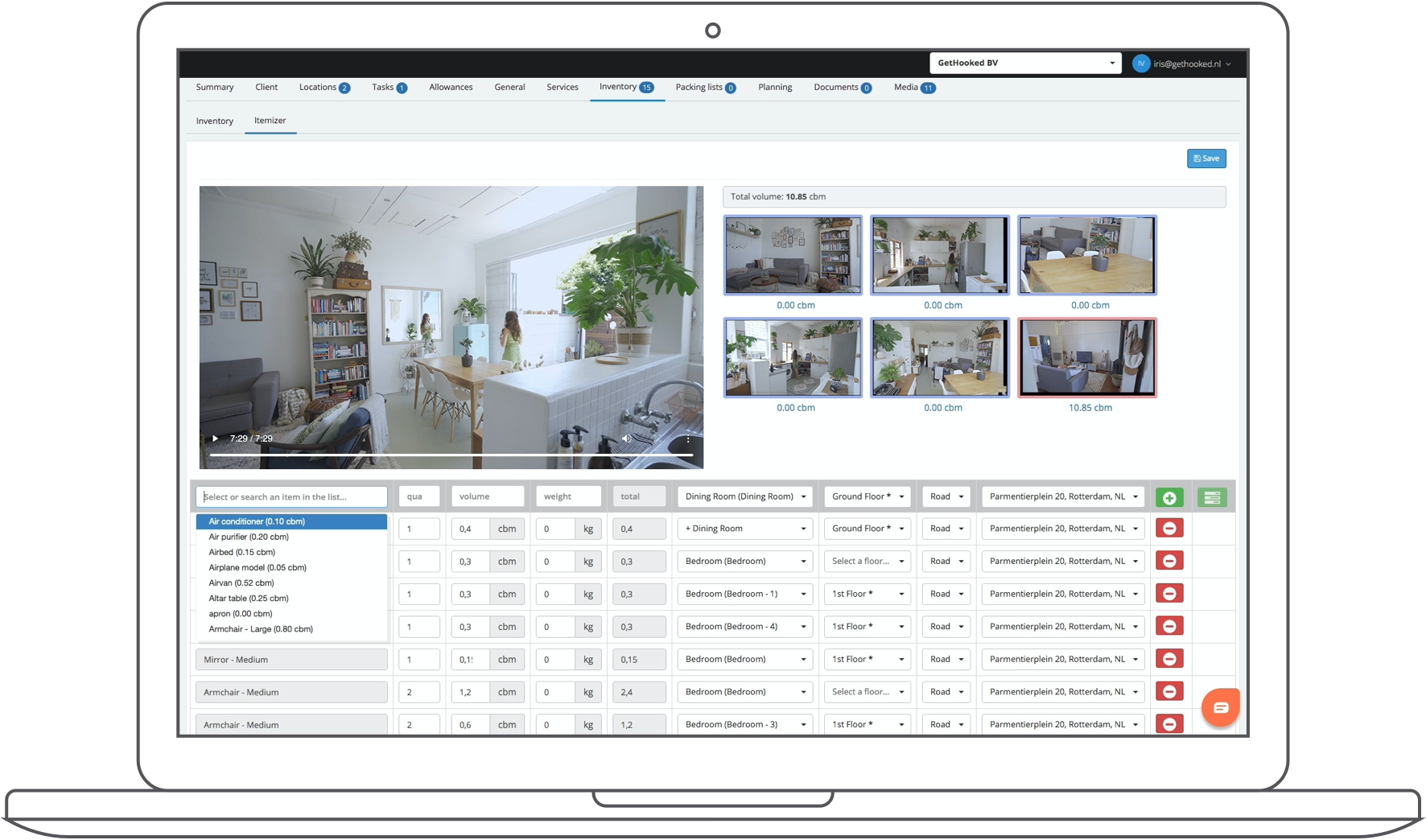 5. Easily Estimate the Volume with the Free Itemizer

Within minutes of your video survey you will have a smart, compact size video to view and share with your team. SurveyVideo comes with the free Itemizer that lets you quickly build the inventory from your own item list or choose the ISO or Military inventory.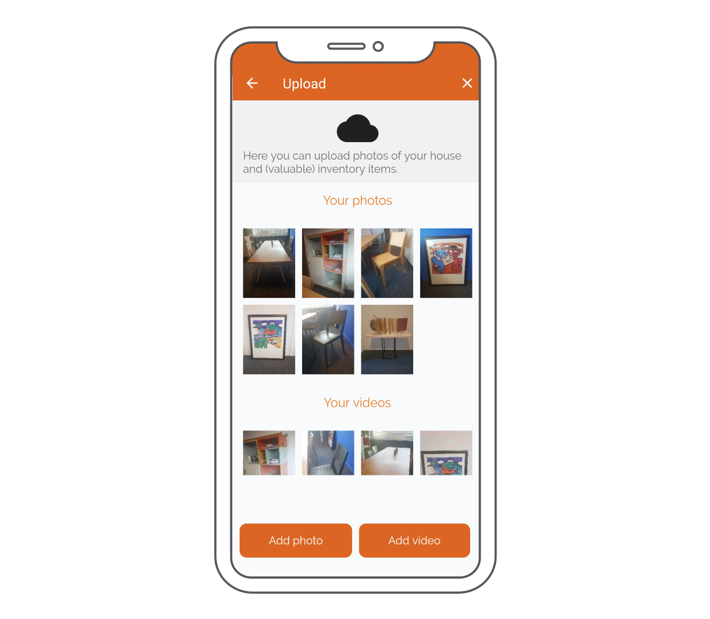 6. Customers Can Also Do Self-Surveys
For smaller moves or if an appointment is not possible, customers can also use the smartphone app to complete their own video survey. They can even upload photos and videos of the items they want to move, providing you with the precise information for your moving estimate.
Why choose SurveyVideo?
The SurveyVideo platform was built with "ease-of-use" as the priority – for the moving company and your customers. A great survey experience branded around your company without complications. Check all the features that make SurveyVideo unique below!
Multiple Standardized Inventory Lists
Use multiple standardized inventory lists such as ISO-compliant lists or the ability to create your own custom lists.
Save Time and Money
The SurveyVideo is the clear and obvious alternative to an in-home survey, reducing your sales costs while providing convenience for your customer.
Share the Survey Summary
After completing the video survey, you can generate a digital inventory list or other move documents that can be shared throughout your company and with your customer in any language you choose.
Save Time With Our New Itemizer
Quickly cube your photos and videos and speed up the time to quote with the free Move4U Itemizer!
Multi-Language Support
Share your survey reports and inventories with movers across the globe. Survey results will be automatically translated to the recipients' preferred language.
Integrates With Other Applications
The pre-move survey is just one part of the whole move process. SurveyVideo allows you to use survey information to effortlessly create the move inventory using other Move4U applications like CrewPro.
Start your
14-day free trial

today!

No credit card needed!
Seamlessly Integrates with Your Free MoveDashboard
The MoveDashboard is your complete view of how your business is doing and comes completely free of charge. From closing ratio to revenue, the MoveDashboard lets you keep "your finger on the pulse" of your business. Create reports at the touch of a button and assign new tasks to your sales representatives and packing crews straight from a single system.
Get Your 14-Day Free Trial Now!
Want to know how our products can increase your moving business? Try the product 14 days for free! No credit card needed!
Visit, call or e-mail us
---
MOVE4U Web Applications B.V. - Netherlands
Parmentierplein 20
3088 GN Rotterdam
MOVE4U Web Applications LLC - USA
4130 Salisbury Road, Suite 1240
Jacksonville, FL 32216