Yembo.ai and Move4U, two leading technology companies specializing in solutions for the moving industry, have announced a landmark integration to offer seamless data transfer capabilities for moving companies using Yembo's pre-move survey technology and Move4U's CrewPro digital inventory platform.

Read morechevron_right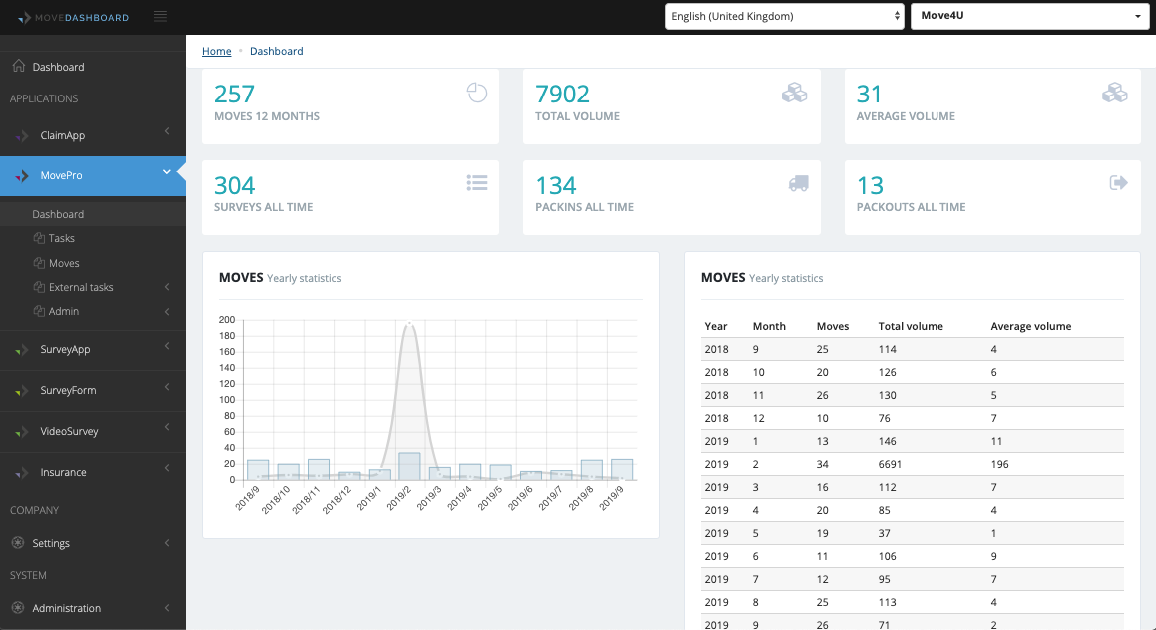 Dynamic Storage, Retrieval And Analysis Of Your Removal Data
Today, one of the key factors in creating an efficient and successful workflow is the availability and accessibility of information and data. We believe data plays a key role in the future of the moving industry. By using the MoveDashboard, the relocation data is constantly available no matter where you are. The MoveDashboard provides you with the opportunity to easily check or share information with others.
MoveDashboard is a tool that processes and shares all customer and internal process data with your moving company. The application is securely accessible 24/7 and offers real-time synchronization of relocation data on all your mobile and connected (computer) devices anywhere in the world.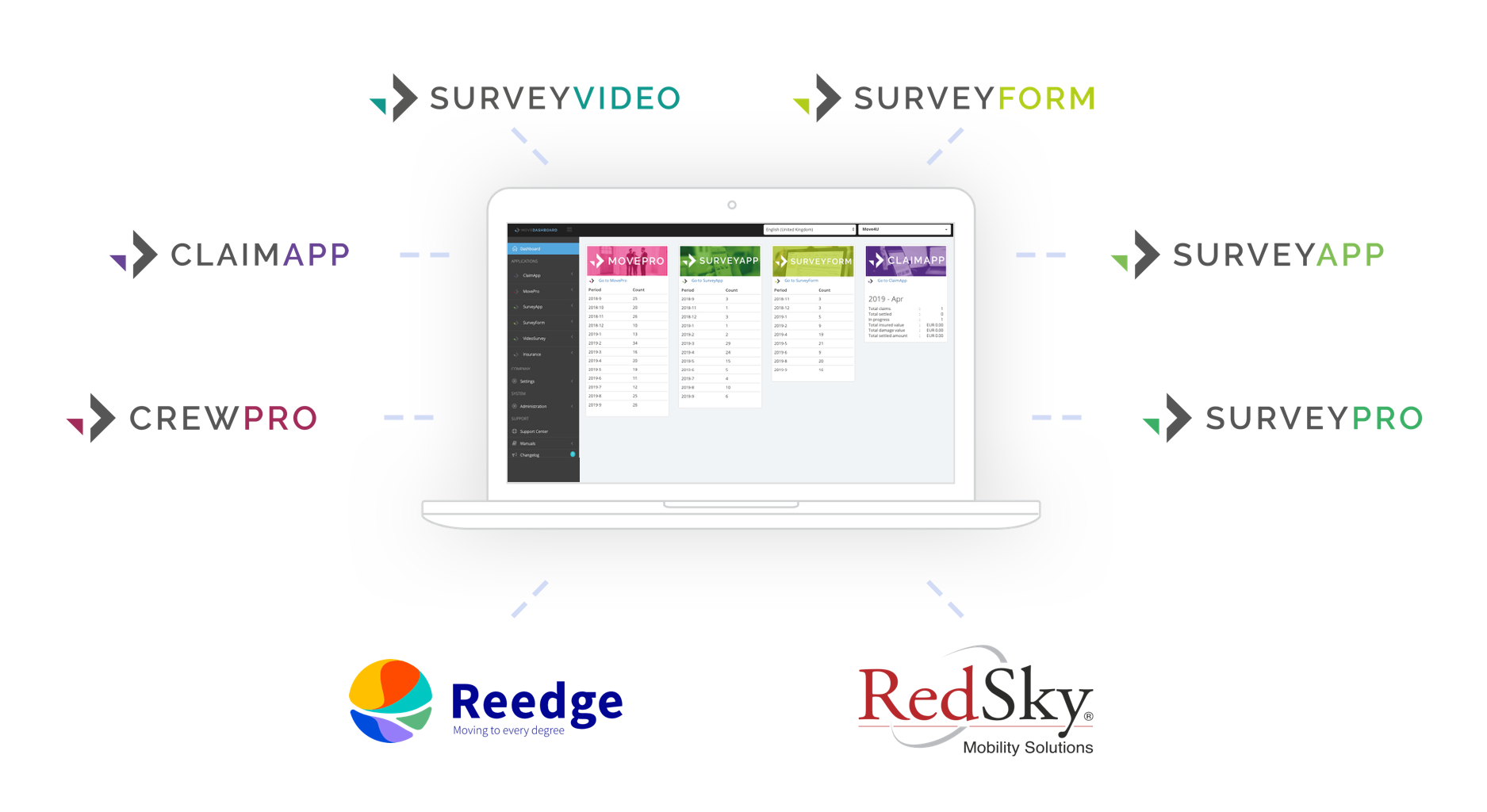 Synchronize All Your Software Into One Platform
The live synchronization of data between the Move4U removal applications, combined with a powerful dashboard for insights and analyses, will enable you and your organization to do more with moving data than ever before. Our platform not only works for Move4U applications, but it also integrates third-party data from popular move management systems such as RedSky and Reedge to help you get a more informed understanding of the customers relocations. By using the MoveDashboard as a mover you are able to connect all phases in the moving process and create the ultimate mover's workflow.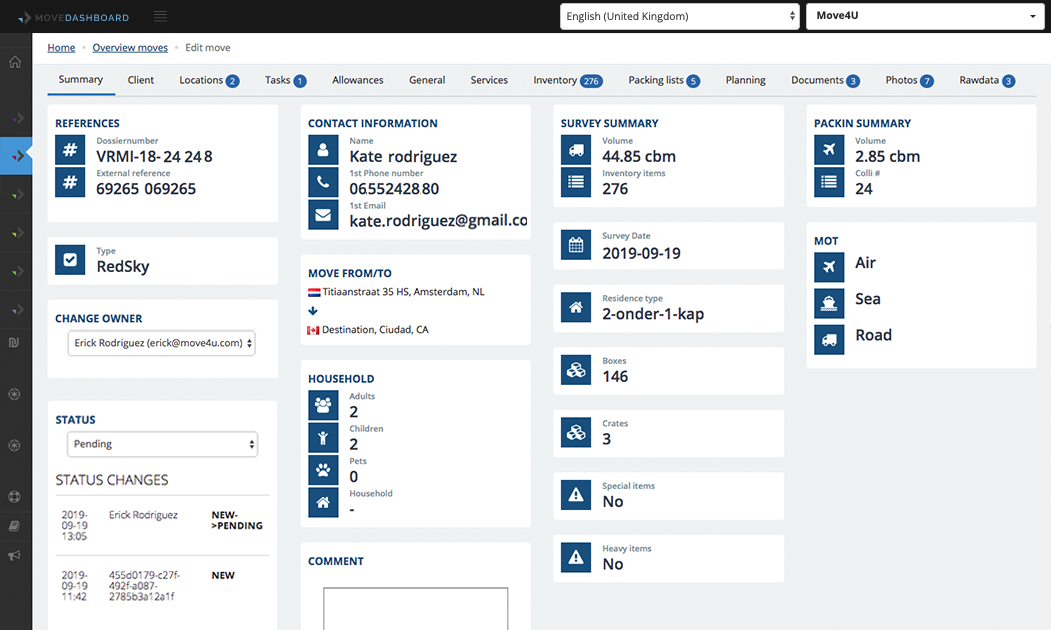 Monitor Sale Performances Per Lead
The MoveDashboard helps you to understand the number of potential customers because, at the end of the day, your main goal is to ensure that all your leads have a smooth relocation. Give your sales team the data they need to help leads with their relocation. The MoveDashboard allows you to anticipate immediately since it shows the relocation phase of the customer.
Powerful Features To Optimize Your Moving Data
---
Our goal is to maximize the power of our removal applications by sharing and synchronizing all the data of our different applications and to create the ultimate mover's workflow! Explore some of MoveDashboard's coolest features below.
Automation
Each change made by a crew member is automatically synchronized, updated and available to all individuals working with the data at that moment. Never work with outdated information ever again.
Quick Overview
The MoveDashboard provides you with a quick overview of the status of all your surveys, claims and your procedures. One clear overview of all your clients information.
Connects All Applications
MoveDashboard maximizes the power of all applications. Data gathered through one application can be used in another. Compare pictures taken with the CrewPro to those submitted in the ClaimApp and more!
Cloudbased - 24/7 Access
Availability of safe and secure data is essential for a successful business. Wherever your teams are, make sure they can access essential move data through the MoveDashboard. Your data is encrypted prior to storage in the MoveDashboard.
Moving Business Insights
Improve your moving business by analyzing and comparing data from your moves in the MoveDashboard.
Synchronize, Store And Analyze Your Move Data With MoveDashboard
Schedule your free demo now!!
Book Your Demo!
---
Want to know how our products can increase your moving business? Try the product for free! No credit card needed!