Yembo.ai and Move4U, two leading technology companies specializing in solutions for the moving industry, have announced a landmark integration to offer seamless data transfer capabilities for moving companies using Yembo's pre-move survey technology and Move4U's CrewPro digital inventory platform.

Read morechevron_right
Packing And Delivery With The CrewPro App!
---
The CrewPro app is an easy to use packing inventory management system allowing your packers and movers to complete the packing inventory list quicker than it would be when writing down the information. CrewPro also allows your packing crews to work without wi-fi coverage and translates packing lists in multiple languages. When used with SurveyPro, most of the inventory moving list is completed automatically. CrewPro supports processes at both origin and destination. Easily assign packing and loading tasks to your crew at the origin address or unloading and unpacking tasks at the destination.
How Does The CrewPro App Work?
---
With CrewPro you can digitize your packing inventory list, allowing you to work much more efficiently. It is not necessary to write out every moving box with descriptions, this has all been digitized by CrewPro. In addition, you save enormously on the costs of translating the packing list into other languages because CrewPro translates it for you at the touch of a button! Our goal is to optimize and speed up the move processes of your moving company, explore some of CrewPro's coolest features below.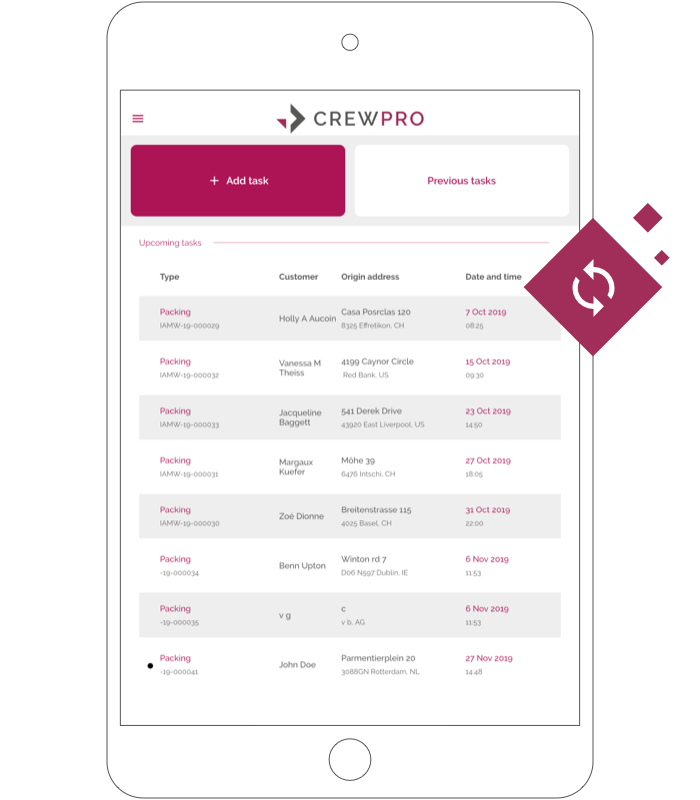 Automatically Update Move Details from the MoveDashboard system
Full customer information and move details are automatically uploaded to CrewPro from the MoveDashboard, saving your packing team time – no more instructions on paper!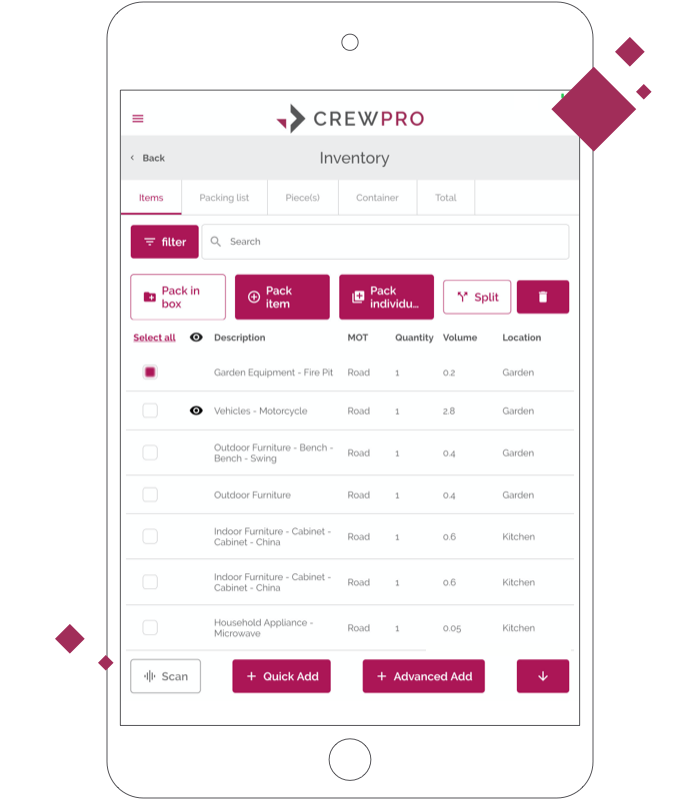 Easy Start with the Packing Inventory List

If you used for example the SurveyPro for the pre-move survey, all the inventory items from the survey will be automatically uploaded to CrewPro – the digital packing inventory list is already 75% complete!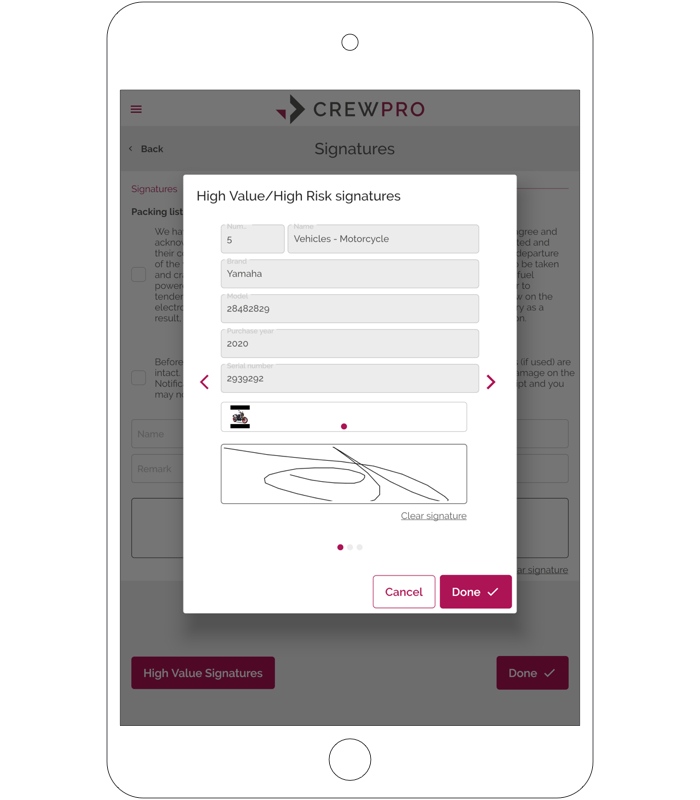 Complete the Packing Inventory
Packers can quickly complete the packing inventory room-by-room using the auto-suggest technology and identifying pre-existing damages and taking photos to reduce later claims.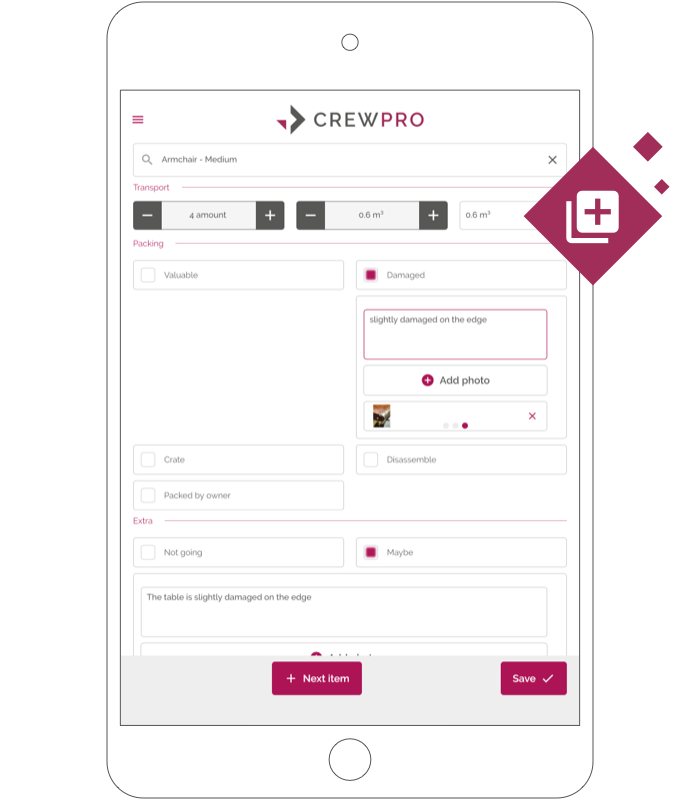 Add Additional Items to Your Packing List
Items may need to be packed that were not on the initial pre-move survey report. CrewPro allows you to add these items quickly or in great detail.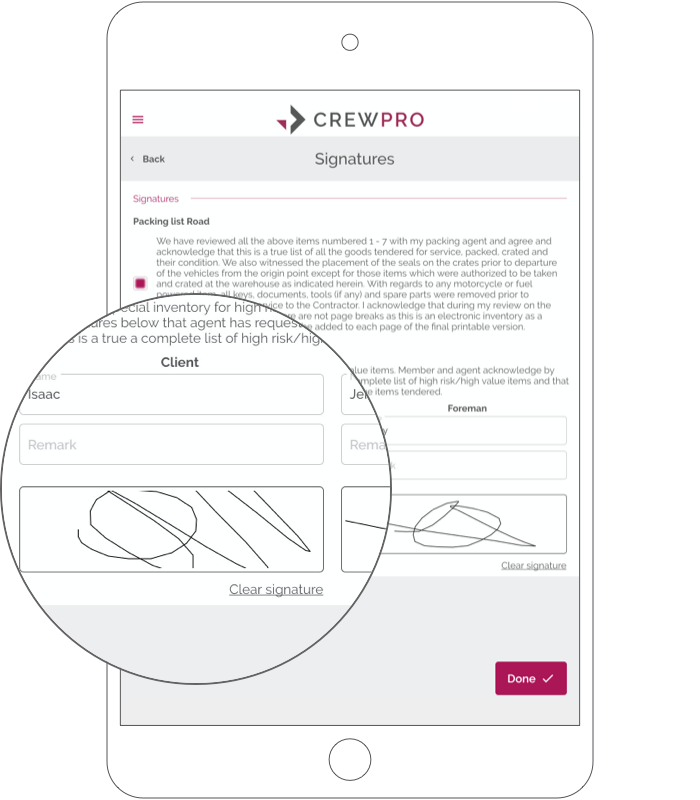 Customer Sign-Off
Once completed, the customer can electronically sign-off on the electronic inventory.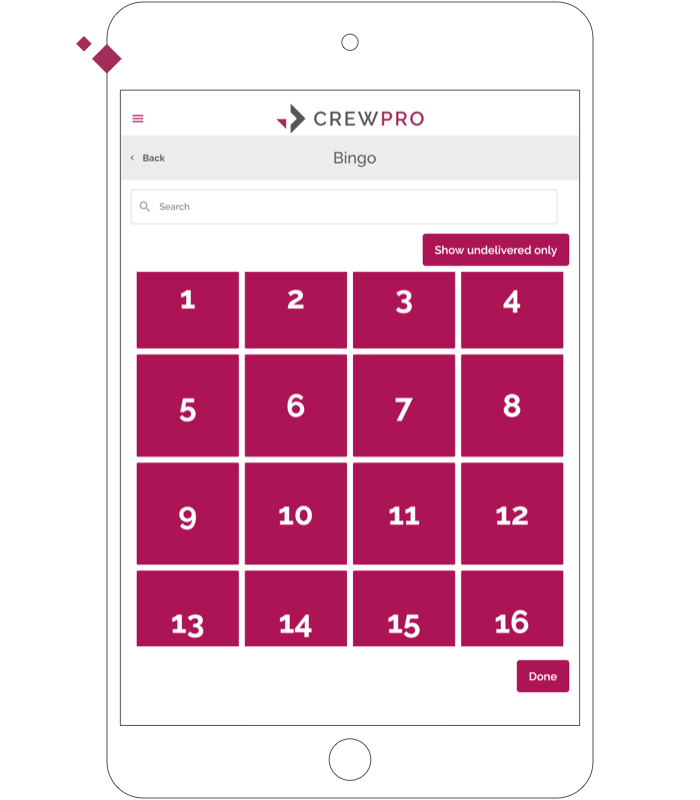 Easy to Use "Bingo Sheet" for Movers
With our delivery bingo check your movers can use the numbers to check whether all items on the packing list are delivered. The bingo card ensures that you can work faster and more effectively. Due to direct digitization, there is no chance of errors.
Inventory Scanner App
CrewPro supports a wide range of label code types, including QR codes, interleaved codes, code 128, 38 and EAN 13codes. Use CrewPro to view and check off items.
Inventory Generated Based On Survey Data
With the CrewPro there is no need to copy/paste data from system to system, the surveyor can quickly create and move lists, as well as move the accumulated volume by room or per shipment. Therefore, more reliable packing lists are generated.
Delivery Bingo Check
Track items easily via store or at delivery with CrewPro's easy to use "Bingo Sheet".
Share Files With Clients or Crews In Any Language
The packing inventory lists can be easily shared with customers, customs and the destination agent in any language you choose.

Cloudbased With MoveDashboard
Have all the data and information in one place! Share details about inventory and packing details with your crew or clients, all stored in the MoveDashboard system.
Photo-based Packing Inventory List
Enrich packing inventory lists with photos of the packed items, boxes and containers, increasing process speed, insights and accountability for unpacking, claim-handling and auditing.
Book Your
Free Demo

Today!

No credit card needed!
CrewPro Seamlessly Integrates With MoveDashboard!
---
MoveDashboard is your complete view of how your business is doing and comes completely free of charge. From closing ratio to revenue, the MoveDashboard lets you keep "your finger on the pulse" of your business. Create reports at the touch of a button and assign new tasks to your sales representatives and packing crews straight from a single system.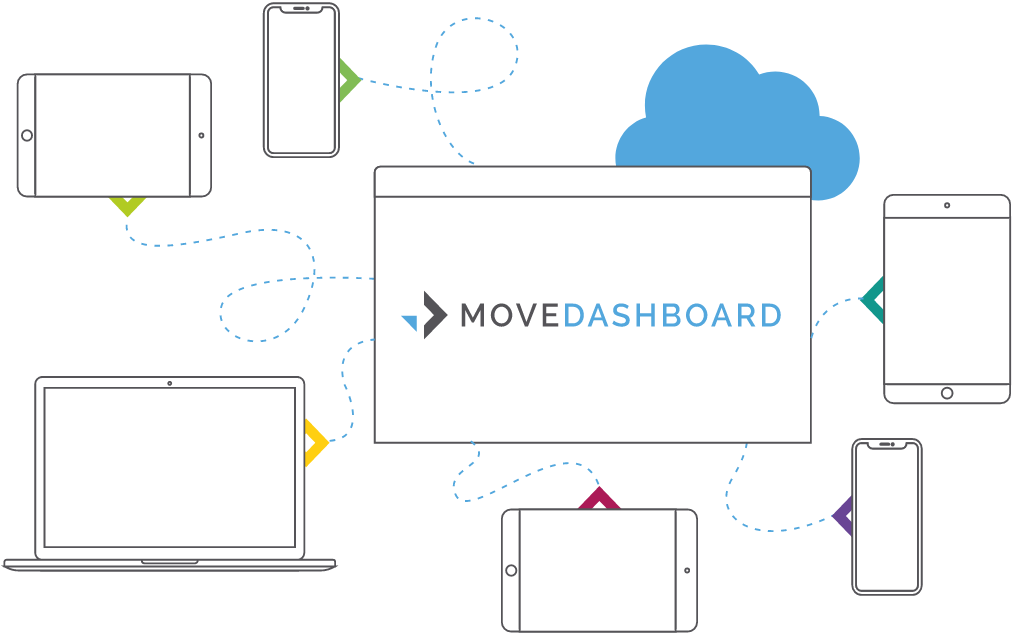 "CrewPro is efficient, saves a lot of paperwork and everyone can read it. The app is made unilingual, so it's possible to forward the documents easily to Russia or Prague (locations of Voerman) and no adjustments or translations are necessary anymore"
---
- Jesper - Packer at Voerman International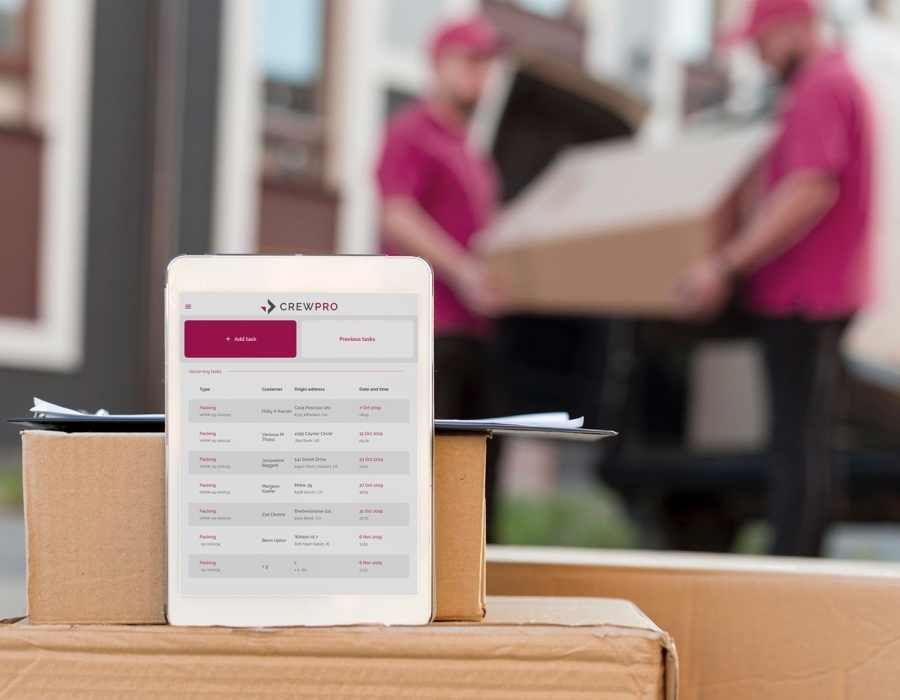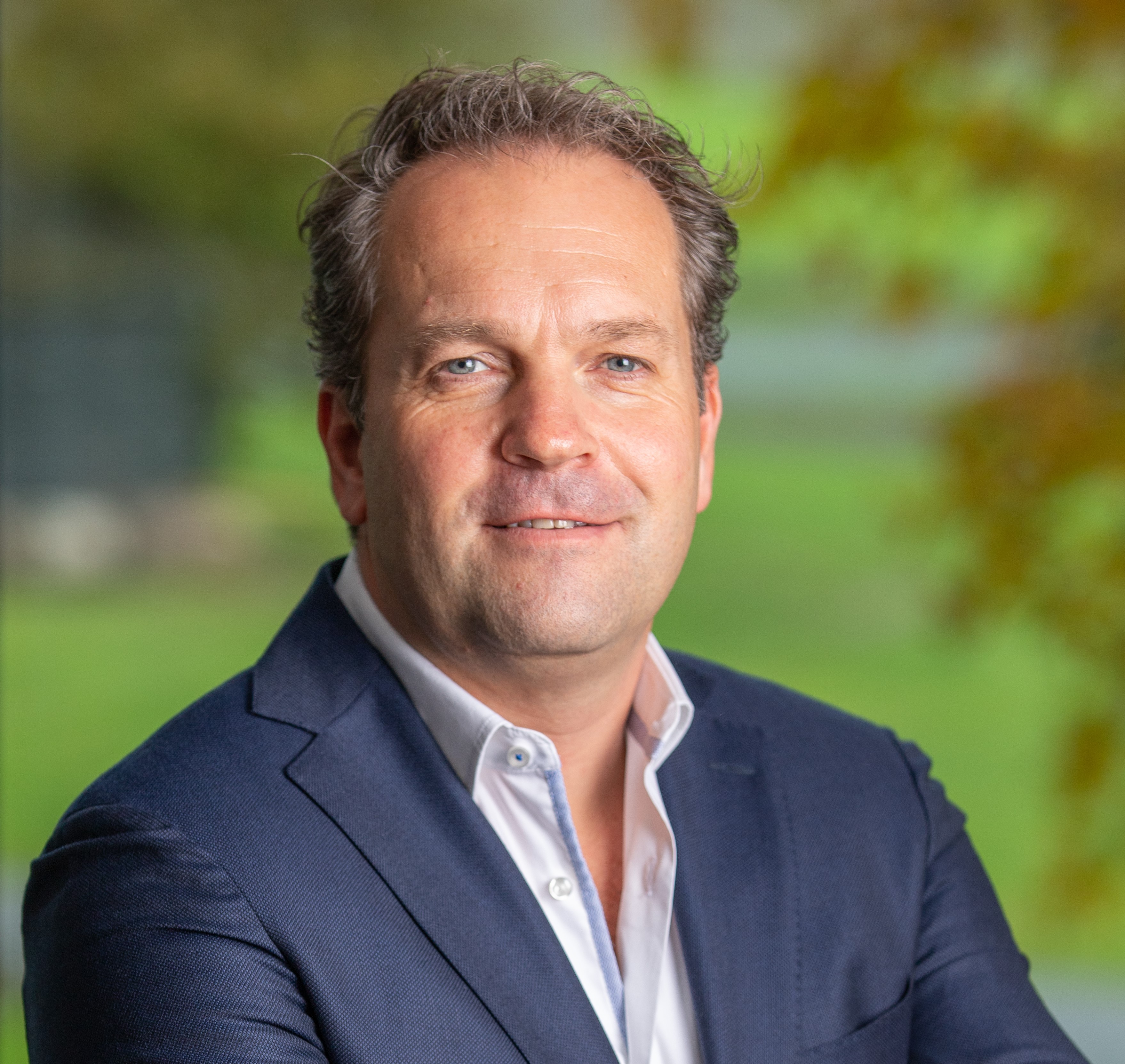 In Loving Memory of Edwin van de Vliet (2020)
---
With his strong passion for and clear vision on the moving industry, it was Edwin who created the foundation for what has now become the CrewPro. Edwin believed in strong, dedicated digital applications for every process of a move. In a paperless future and the efficiency digital technology would bring us. And above all, he always put the customer experience first. Thank you for everything Edwin.
- Team Move4U
Book Your Demo!
---
Want to know how our products can increase your moving business? Try the product for free! No credit card needed!
Already Using The CrewPro
---