Yembo.ai and Move4U, two leading technology companies specializing in solutions for the moving industry, have announced a landmark integration to offer seamless data transfer capabilities for moving companies using Yembo's pre-move survey technology and Move4U's CrewPro digital inventory platform.

Read morechevron_right
Creating an accurate moving inventory is one of the most important tasks in moving household goods. It represents the exact record of what has been collected, stored, or delivered and the condition of the items. Traditionally an inventory has been a handwritten document, but more and more moving companies are realizing the added value of using moving inventory software for their inventories.

The 10 Benefits of Moving Inventory Software
1. No more Illegible handwriting
Everyone that has worked in the moving industry has often struggled to read a moving inventory. More importantly, there is a growing demand for efficiency and transparency from customers. A clear digital inventory reduces dissatisfaction of the customer and reduces claims.


2. Reduced Errors With Moving Inventory Software
When someone makes a mistake on a handwritten inventory it gets crossed out on the document leaving even more confusion on numbering that only adds to more errors at the destination. By using a digital inventory, mistakes are simply deleted leaving a clear and efficient list of items. The inventory is then stored in a central cloud location easily accessible and never lost.
3. Customers Can Understand the Moving Inventory
From a customer's perspective, the inventory could be in a different language. Condition symbols and other industry abbreviations are completely foreign to the person that you are moving. On a digital inventory, descriptions become clear at the touch of a button.

4. Sharing a Digital Inventory with Customers or Partners

No more leaving paper copies or scanning handwritten inventories. When everything is packed you can e-mail the digital inventory directly to customers, move coordinators or trade partners straight from the tablet.
5. Automatic Translation
If you think it is difficult to read handwritten inventories in your own language, imagine what it is like for customers or moving companies in other countries. With Move4U's moving inventory software; the CrewPro app, you can automatically translate the inventories list to any language you choose before sending it to recipients.
6. Scan barcodes or QR codes
Tired of checking off items on a handwritten "bingo sheet". With the CrewPro app you can either check the items off on the tablet or scan any barcodes or QR codes when you create the digital inventory. No need for any additional scanning equipment.

7. Upload Survey Information and the Inventory is Nearly Complete
No need to start an inventory from scratch! Using a digital pre-move survey platform like SurveyPro information can be quickly and efficiently uploaded to CrewPro and can then be quickly numbered and recorded on the inventory. This also allows you to see any additional items that the customer may have added without your knowledge.
8. Electronic Sign-off
Looking for a simple way to collect a customer signature and confirmation that the work was completed to their satisfaction? With CrewPro the customer can electronically sign-off the important documents such as the electronic inventory.

9. Photo-Based Packing Inventory Lists
Add to the packing inventory lists with photos of the items, boxes, and the shipping container. This provides a visual record of the condition of items at the origin address, improving accountability and claim-handling.
10. Connects to Your Move Management System
Upload all the documents directly to your move management system. The CrewPro app interfaces directly with MoveDashboard, Reedge, RedSky, or your own moving software.

So, digital is the way to go. But are there no challenges to digital? Of course, there are.
Data Security Moving Software
According to an investigative study of BBB a lot of customers deal with the challenge to find a trustworthy moving company. In every industry, there are some bad apples, which is nothing different in the moving industry. Therefore, it's important that moving companies work with trustworthy partners who take these digital challenges seriously. Data security is a hot and important topic in this matter, as you don't want, for example, relocation details published and findable on the web!

Move4U Moving Technology is ISO Certified
As we described above, people's relocation details must be treated confidentially. Not only is it important as a moving company to treat the data of your customers confidentially, the protection of online data and data transfer to third parties also play an important role in this.
Move4U is one of the few moving software companies to be ISO2009, ISO27001 and ISO17451 certified. Working with ISO standards will only enhance the benefits of moving software and creates consistency within the moving industry. This is because it allows different moving, storage, and relocation companies to use the same codification of items, transportation modes, and associated data relating to a shipment.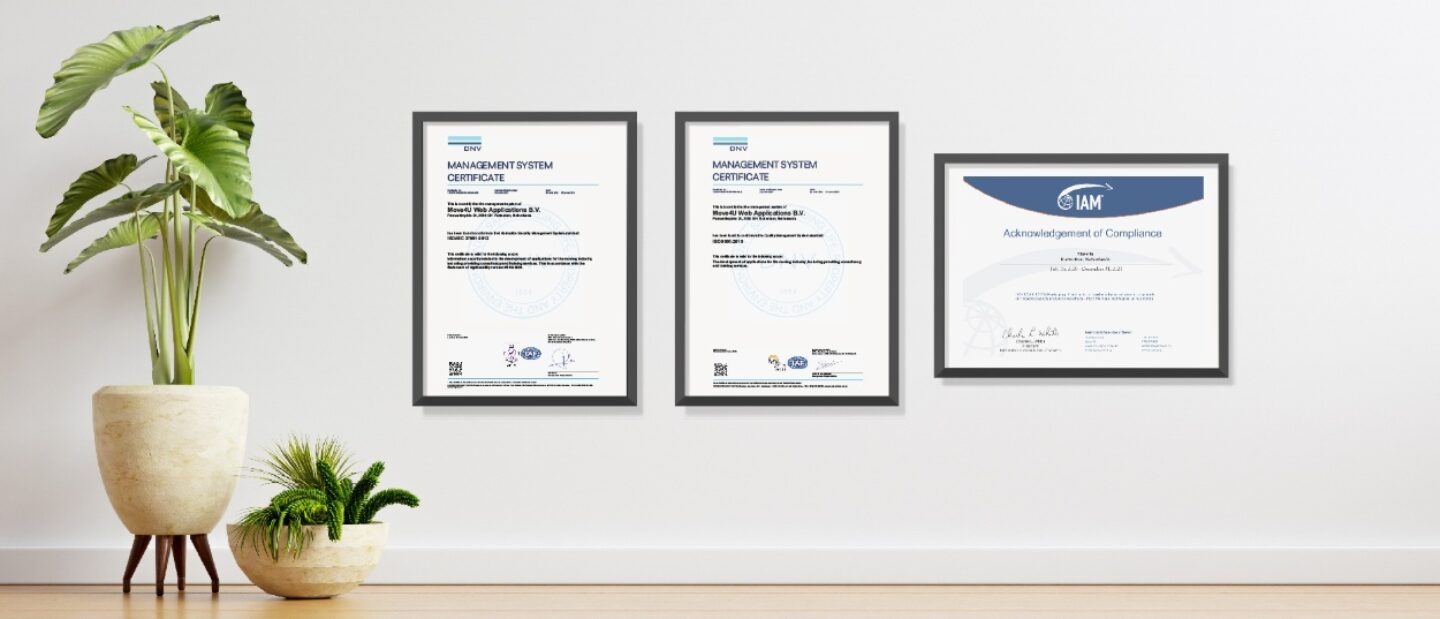 Request a Free Demo of CrewPro Today!
Hopefully, you are now clear on the advantages of CrewPro, but don't just take our word for it. Try CrewPro for free! Request a short free demo of the product below and get immediate access to a platform that is changing the way the world moves.